SPARE PARTS FOR PSA NITROGEN GAS GENERATORS
Sequence Timers / PLC
The Sequence Timer, PT 130 is a multi channel and multi range instrument. Three basic timing range seconds, minutes and hour with a resolution of 0.01, 0.1 and 1 are programmable for both on time and off time. The 11.059 MHz quartz crystal gives an accurate timing range over the full scale. The timer has NO / NC output relay contacts rated at 6A 230 volts AC. The display is a 7 segment LED. It has a built in batch counter facility to count the number of cycles completed. The remote and front panel reset, hold function give easy operation. The timer is compact and of standard DIN size. It is available in the range of 4, 10, 18, 26, 34 channels.
Application
It is used in hydraulic press sequence control, for blending and storage silos in cement industry, for bag filters, dust collectors, tyre tube curing press, pot header in rubber industry and for machine tool sequence.
Ceramic Balls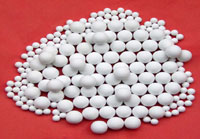 Like plastics and other non-metals, ceramic balls are available in a host of compositions and formulations. This data sheet covers many of the general properties shared by ceramic balls, and lists specific characteristics of different materials.
General Characteristics:
As a rule, ceramic balls resist corrosion and abrasion extremely well. They also have low thermal conductivity, and a high resistance to heat. Ruby sapphire material can withstand extended exposure to temperatures in excess of 3250°F. These qualities make ceramic balls useful for flow control, metering, and bearing applications.
Carbon Molecular Sieves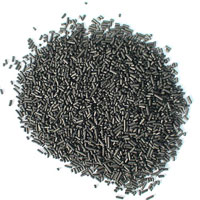 The carbon molecular sieve (CMS) is a new nonpolar absorbent with adsorbing oxygen molecule to get nitrogen-enriched air at normal temperature. The ability of separating the air decided by propagation rate, adsorptive attraction or the same effect of each gas in carbon molecular sieve pore. The carbon molecular sieve is widely applied in petroleum chemical industry, the heat treatment of metal, the electronic manufacture and food preservation industries.
A process for producing carbon molecular sieves for the separation of oxygen from air, whereby finely ground char coal particles are after the addition of coal tar, coal tar pitch as binders and carbonized at temperatures of 600°-900° C. Our CMS products have the character of large nitrogen yield capacity; high nitrogen recovery. It can meet the requirement of all types of PSA nitrogen systems.
The Main Technical Indexes
Diameter : 1.3 – 1.5mm (Ave 1.4mm)
Bulk Density : 0.60 – 0.66 kg/L (Ave 0.63 kg/L)
Compressive Strength : 20N (Ave)
Activated Alumina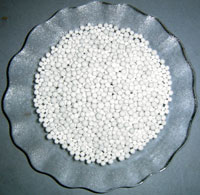 Activated alumina is a filter media made by treating aluminum ore so that it becomes porous and highly adsorptive. Activated alumina will remove a variety of contaminants including excessive fluoride, arsenic and selenium. The medium requires periodic cleaning with an appropriate regenerate such as alum or acid in order to remain effective.
A white or slightly red particle, ball-shaped or roll-shaped, activated alumina is insoluble in water and organic solvent, soluble in strong acids and alkalis, odorless, tasteless and non-toxic.
Application
Catalyst for recovering sulfur in the petrochemical industry
Excellent defluorination agent for drinking water and for recycling alkyl-hydrocarbon in alkylbenzene production
Reclaiming agent for de-acidic in transformer oil, and de-arsenic agent in the acid industry
Adsorbent in the production of hydrogen peroxide solution
Catalyst for polyhydro-ammonia by substituting silica gel with ball-shaped product
Desiccator and purifying agent
Pilot Solenoid Valves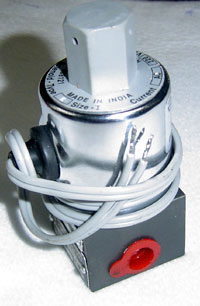 These are devices that are used to operate larger compressed air valves. Mellcon Pilot Solenoid Valve is constructed and arranged to provide reduced operating noise and decreased armature wear as the armature reciprocates within a bore in response to solenoid energization and de-energization. The armature contains an elastomeric valve head that is based normally closed against the valve seat. When the solenoid assembly is energized, the armature is retracted. The armature's momentum is initially absorbed by the elastomeric valve head making contact with the solenoid assembly at one end of the bore. Final absorption of the armature's momentum is shared by continuing contact of the valve head with the solenoid assembly and by an elastomeric limit stop that is disposed between the armature and the stator. In this way the elastomeric limit stop is not required to absorb the full momentum of the retracting armature.
Detailed Description
Internal Pilot / External Pilot / Pilot Valves Normally closed / Normally open / Mixing / Diverting
Port size 1/4″ – 3″
Orifice 6mm – 80mm
Pressure range 1.0 – 70bar
(Internal Pilot Operated)
Suitable for Air, Water, Inert gases, Clear Liquids and Fuel gases
External piloting for low pressure media, Mixing and Diverting applications.
Dome Valve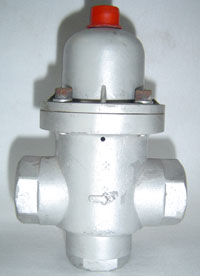 The Dome Valve – The operating efficiency of all Materials Handling Systems relies upon the original and world's best Dome Valve, Simple in design and low in maintenance, this high performance valve is used thoughout a wide range of industries. In action the Mellcon Dome Valve is a pressure tight compressed air operated valve, capable of returning over one million maintenance-free cycles, even in abrasive, hazardous or toxic applications. ATEX compliant – the fast-closing cut-off valve incorporates a unique inflatable sealing mechanism, this provides the pressure tight seal, against the dome surface when in the closed position.
Benefits Of The Dome Valve
Full bore material flow.
Only a quarter turn from fully closed to fully open.
Can cut through column of static material .
Copes with materials up to 480 deg C.
Sealing pressures up to 30 barg .
Handles abrasive products with ease.
No moving wear parts .
Long intervals between maintenance visits.
Pressure Regulating Valves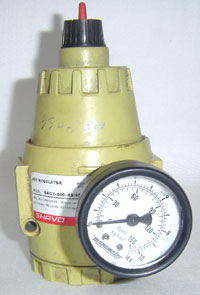 The Pressure Reducing and Regulating Valve automatically reduces a high inlet pressure to a lower delivery pressure and maintains the lower pressure within acceptable limits.
Features And Benefits
Automatically reduces a high inlet pressure to a lower delivery pressure: Maintains a lower pressure within reasonably close limits.
Every valve is tested through a range of tests prior to shipping: Specify and install with confidence.
High capacities for higher quality installations: Handles more volume with just one regulator.
Specification
A pressure reducing valve shall be installed to deliver water at a controlled pressure.
The valve shall be ASSE 1003 and IAPMO listed. The valve shall be a bronze body with a maximum inlet pressure of 300 psi. The valve shall be a yoke-type design with a buna seat disc and a stainless steel body seat.
Diaphragm Valves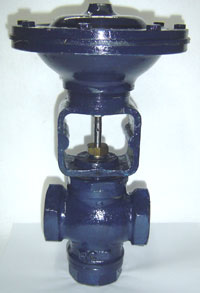 Our range of diaphragm valves provide excellent sealing and isolation characteristics to contain fluid being controlled and prevent migration of the controlled fluid into the valve mechanisms or out of the valve. Diaphragm valves utilize a resilient diaphragm and a valve shoulder to engage a valve seat and prevent the flow of fluid past the valve seat.
It is needless to say that they could be used for handling air, water and normal liquid/gas flow as well. It is the most ideal valve to handle fluids that require high purity and should remain free from contamination.
There are two main categories of diaphragm valves: one type seals over a "weir" (saddle) and the other (sometimes called a "straight-way" valve) seals over a seat. The main difference is that a saddle-type valve has its two ports in line with each other on the opposite sides of the valve, whereas the seat-type has the in/out ports located at a 90 degree angle from one another. The saddle type is the most common in process applications and the seat-type is more commonly used as a tank bottom valve but exists also as a process valve. While diaphragm valves usually come in two-port forms, they can also come with three ports and even more. When more than three ports are included, they generally require more than one diaphragm; however, special dual actuators can handle more ports with one membrane.
Change Over Valve
Change-over valves serving pneumatic conveying systems are subject to stringent requirements in terms of operational reliability and turdiness.
Mellcon change-over valves may be incorporated in various types of pneumatic conveying systems such as Fluxo pumps and screw pumps. These are systems used in the cement industry for conveying raw meal, cement, precipitator dust, coal meal and other pulverulent, non-sticky materials.
The change-over valve comes in two main types:
Symmetric
Asymmetric.
The asymmetric type is used where the conveying line branches off into a second line,while the symmetric type is mainly used in conveying systems incorporating Mellcon Fluxo pump type D-, connecting two outlet
pipes into one conveying line.
Body Materials
Carbon steel
Stainless steel
High chromium stainless steel
Hastelloy
Inconel, Pure nickel, Titanium
Application
Switch-over valve or in combination with safety valves for toxic, aggressive and inflammable gases and liquids, boiler and cooling water, saturated steam etc., under consideration of the material resistance.
Filter Elements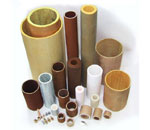 Mellcon Compressed Air and Gas Filters being manufactured are best Tested for simultaneous mechanical separation of liquid droplets and of solid dust from compressed gases.
Tested with oil mist, these filters will have to be followed by adsorber units which have the double function of removing the remaining mist particles and of adsorbing the dissolved gases and vapours. Such "Adsorbers" contain granular adsorption media, usually activated carbon or silica gel. The granules nearer to depth filter and liquid mist particles, meanwhile the farther granules adsorb the dissolved vapours. Working pressure : 10 kg/cm2. Material : Carbon Steel. Finish : Inside black bituminious paint. Flanges according to ASA-150 RT Ceramic filter cylinders of grain size 120. All sizes are supplied with separately packed carbon except the In-Line Adsorber , which is supplied with filled-in carbon.
Oil Filter Element
Inline Low-High Pressure, Duplex, Tank Top Mounted, Returnline filter elements for Hydraulic-Lubricating oil applications for stationary and mobile applications